First time: December 2006

On the last few days of the year 2006, Trudy and Gernot went bush again—but for the first time by bike: we rode the Munda Biddi Trail ("path through the forest") in South Western Australia, a 300km-long off-road tour. The whole trail uses the wide network of forest tracks, at times complemented by purpose-built single-file mountain bike tracks. The northern end is at Mundaring, 40km east of Perth, the southern end, at the time, was Collie (200km S of Perth).


While either direction can be taken, we opted to head South, mostly because that seemed to give us the most flexibility should we finish early. Not knowing much about the trail, we had allowed 9 days based on the official maps and campsites provided.
The trail then represented about 1/3 of the final product, which is to reach Albany in the SW of WA. As of January 2007, the middle section was under construction, the final third still in planning.
Second time: Dec'09 – Jan'10
In late 2009 we found out that around half of the middle section had been completed and was open to ride, which we then did over the Christmas–New-Year period. This time we started at the Southern end (Nannup) working our way back up to the North (Mundaring). This gave us a different perspective of the parts we had already covered on our 2006 ride.
Third time: December 2016
By 2016, not only had the Munda Biddi trail been completely installed from Perth to Albany, but we were also ready to go back and tackle the trail end-to-end. We flew from Sydney via Perth to Albany, to then ride from South to North and flying back from Perth to Sydney.
Unfortunately, we had to abort the ride as Trudy had a bike accident on the 6th day, just before the Yirra Kartta hut. Trudy lost her balance when stopping abruptly, fell off the bike, and ended up with a broken pelvis and collarbone. This resulted in a rescue operation involving a ranger in a ute, an ambulance and a helicopter, and a complimentary flight to Bunbury hospital, all on Christmas Eve. She spent the next 5 days there until they let her go on crutches, and we made our way back to Sydney (after collecting the bikes and gear from the Walpole DPAR office).
Forth time: Dec'18 – Jan'19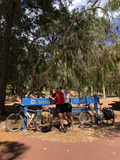 Not to be discouraged, we revived our end-to-end Munda Biddi plans in 2018. Thus, a couple days before Christmas 2018, we packed up our bikes and boarded a plane in Sydney westward ... read on in our diary for 2018-19.

The pages linked below were all written shortly after the respective rides. Hence the Specials from 2006 may meanwhile have become a bit outdated.
---
Return to all Trips
---