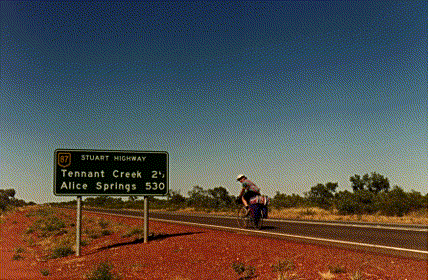 Towards Tennant Creek, about 2/3 the way from Townsville to Alice Springs
Our Mission — accomplished?
Having moved to Australia in April 1991, it has clearly become time to explore our new home country, espcially the vastness of the interior of the continent, a notion that us native Europeans are totally unfamiliar with.
To us it's obvious that cycling offers the optimal means of travel and exploring as it allows to realistically cover the thoudands of kilometers while at the same time be able to experience what lies along the path of these vast distances. Good examples are the many flowers we are noticing as we are riding through the semi-arid plains. And on these sme stretches we also observe how the readily meare moving westward with sun-rise and sun-set shifting every day by several minutes.
Looking back, we continue to draw on our Australia inner-continental experience. Often enough, we are perplexed how few Australians have been or are edeavouring similar explorations of their own country—Aussies are such coast-huggers:-)
So, here is our adventure as it unfolds:
Diary
This diary of the ride is written up more than ten years later, based on very rudimentary notes. Needless to say, it's pretty sketchy in places.
Saturday 3 July to Wednesday 21 July 1993
---
Day 1, Saturday 3 July 1993 Townsville → Woodstock: 65km, total 65km
We ride from home to Sydney airport (7km), where we wrap up our gear in two parcels for checking in, plus some hand luggage, and roll the bikes on the special luggage trolley.
We arrive in Townsville early afternoon. After riding into town we try to buy fuel for our camp stove (which we can't take on a plane), but have a hard time finding it. No-one claims to know where we can find what in Sydney is called lighter fuel, one person sends us to an outlet of the local gas utility! By now it is getting towards 4pm, and therefore closing time of shops, and we are starting to get desperate. Finally someone sends us to a hardware store, where they know what we want: Queenslanders call it Shellite. (These days we know that Shell stations are the most reliable place to find it.)
We finally get off and have a pleasant ride in the late afternoon sun. However, after about 30km Gernot feels a slight and regular tug while pedalling. Turns out that a pin in his chain is working its way out. We don't carry a chain tool, and can only try to push it back in with the Swiss Army knife. Makes for slightly nervous riding.
After 52km from Townsville we reach Woodstock, our scheduled destination for the day. There is no caravan park, but some nice lawn next to the railway lines, complete with a rainwater tank and a flush toilet! Even more surprising is that the toilet is inhabited: a little frog lives in the bowl. Creates some hesitation to use, but the little feller seems to be used to it ;-)
The night is a bit noisy with a train passing every hour or two within less than 100m from us. Makes it easy to make an early start...
Day 2, Sunday 4 July 1993 Woodstock → Charters Towers: 100km, total 165km
No specific memory or notes from the ride itself.
Charters Towers is typical for a larger country town, wide, divided roads, flanked by beautiful big trees which are full of galahs that take off as we ride past. We find a caravan park, complete with a pool. To our dismay, the pool is empty&mbsp;we would have loved a swim after a day's cycling in the tropical sun. But it is the middle of winter after all, and we resort to a shower.
We also locate a bicycle shop, but it is closed on Sundays.
Day 3, Monday 5 July 1993 Charters Towers → Pentland: 110km, avg 27.7km/h, total 276km
We have to wait until 9am for the bicycle shop to open. There Gernot's chain gets fixed (and from now on we carry a chain tool). No specific memory or notes otherwise.
Day 4, Tuesday 6 July 1993 Pentland → Hughenden: 146.4km, avg 30km/h, total 424km
Quite hilly (but mostly not steep) until we cross the continental divide. No memories besides that.
Day 5, Wednesday 7 July 1993 Hughenden → Maxwellton: 173km, total 597km
Very flat from here on. Also gets quite warm by mid-day, so somewhere around here we start getting into the habit of really early starts. Later we routinely hit the road about half an hour before sunrise, just as it's getting light enough to ride without light.
Planned destination for the day is Richmond, which we reach in the early afternoon. After a meal of steak (not much choice) in the local pub we decide it's way too early to call it quit (and after the rest it's much cooler too) so we decide to keep going for a bit longer. We end up riding another 44km to the small township of Maxwellton.
Looking for a place to pitch our tent we make the mistake of pushing our bicycles though some grassy patch. We end up with spinifex puncturing three tires within seconds!
We end up camping on the front lawn of Elena and Ken, an elderly couple, who serve us tea. They also invite us to watch TV with them (in their living room, where they have a heater running full power—North Queenslanders seem to freeze when temperatures drop below 20°). When we politely turn down the offer, they respond by offering a beer—so Gernot gets his birthday night cap in spite of the lack of a pub or store. (The inflatable birthday cake Trudy brings along doesn't quite cut it...)
Day 6, Thursday 8 July 1993 Maxwellton → Julia Creek: 152.5km, total 750km
Julia Creek is the destination for the day, but again we find that this is too early to stop. So we continue for a while and end up camping in a creek bed next to the road, with bicycles parked under a bridge. As this is grazing country, there are fences all along the road and it's difficult to find a good camping spot.
Day 7, Friday 9 July 1993 Julia Creek → Cloncurry: 101.1km, avg 21.8km/h, total 851km
There is a little bit of rain overnight, and when we get up, the creek bed has turned to mud. We prepare and eat breakfast under the bridge (where there is a concrete bed), and have a fun time (not!) getting our gear packed up and the bicycles up on the road. The heavy mud sticks to the tyres and prevents them from moving past breaks and mudguards, it takes a fair bit of effort scraping it off.
While the previous days were easy riding with the south-easterly trade winds, on this grey day the wind is a straight and strong southerly. While it hits us side-on, it still slows us down and makes cycling a bit frustrating.
The last 14km to Cloncurry (from the end of the Matilda/Landsborough Highway) is uphill, but actually easier, as we are shielded from the wind. As soon as we are camped at the caravan park, the sun peeks out under the clouds, and the evening is quite nice. At the caravan park we meet an around-Australia cyclist who is carrying an amazing amount of gear (almost a complete workshop that includes a chain cleaner).
Day 8, Saturday 10 July 1993 Cloncurry → Mount Isa: 127.9km, avg 22.6km/h, total 978km
The weather is nice again and the trade winds are back. This bit is quite hilly, but nice riding through less monotonous countryside. We have lunch among the ruins of the old mining town of Mary Kathleen.
Mount Isa is almost a culture shock. While all we have seen since Charters Towers are small country towns (and Townsville and Charters Towers aren't particularly big towns either, in spite of sporting traffic lights), this has definitely the feeling of a big town. There are cinemas, a huge club where we have dinner and lots of shops etc.
We take Sunday off and take a tour of the mine, the raison d'etre of the town as well as the railway line which has accompanied our ride so far—no more after this!
Day 9, Monday 12 July 1993 Mount Isa → Bush camp (near Camooweal): 156.5km, avg 28.8km/h, total 1,158km
Late start, as we wait for a bicycle shop to open (which was closed on Sunday). Not sure what we needed, probably bought more tubes or tyres. Quite appropriate, as this is the last one until Alice!
From Mt Isa there is a long (188km) stretch to Camooweal, with no services or even water along the way. We decide that we don't want to rely on making the whole distance in one go (particularly as we have a late start) and therefore prepare for camping along the way. This means carrying water for 24h. The 10l foldable plastic water container we are carrying just fits in Trudy's handle bar bag when it is full, that makes packing easier. Otherwise we carry our normal water bottles (4×0.75l) plus a two-litre bottle of milk. This turns out to be plenty.
Because of the late start, the day is quite hot for us. Still, we make good distance. The road is now quite narrow with an old and therefore very smooth surface—cyclists' dream! Motorists hate it, as it is not quite two lanes, which means that if a road train comes towards you, you need to get off. For us it's no problem, as the road is wide enough for a bicycle and a road train. We also see a unique apparition, a truck carrying a complete house!
We could have pushed on to Camooweal if we really wanted, but we decide to pull off about 35km short of Camooweal and camp peacefully between some huge termite mounds. While this is still grazing country, there are no more fences along the road, so it's easy to get a bit away from the road.
Day 10, Tuesday 13 July 1993 Bush camp (near Camooweal) → Soudan Station: 165.4km, avg 22.5km/h, total 1,324km
We reach Camooweal after about an hour, but there really isn't anything interesting here. We continue after a short rest and filling up on water. From here to Alice it's all desert or semi-arid, with very few places of reliable water supply, so we always carry a fair bit of water.
Most of the 13km to the Northern Territory border are a construction zone. The road is being redone, and traffic is diverted over a temporary dirt road running in parallel. It is being watered to keep the dust down, with all the construction trucks using it. This is causing real problems for us, as we have continually mud sticking to our tyres, and we have to keep stopping to scrape it off, as it blocks the wheels.
Once past the actual construction site we carry the bicycles across to the old road (which still has its beautiful old surface) and, after some cleaning of the bikes, carry on much easier.
About 60km past the border is Avon Downs Police Station, truly in the middle of nowhere! Manned with two cops who must be bored stiff. It's a planned water stop, and a good place to have lunch, as it also has a shady roof. Nice place to break for the hottest part of the day.
After about another 60km we reach Soudan Station, the planned destination for the day. This is also a reliable water source, in fact, they have a tab (of clearly not bore water) which they use to water their lawn! We happily accept their offer to camp on their lawn, which is dense and soft.
The other memorable thing about this place is the solar-powered phone cell in front of the station, looks a bit as if it was dropped by aliens. But a test reveals that it works: Gernot calls his colleagues working in photovoltaics to tell them about this outback use of PV ;-)
Day 11, Wednesday 14 July 1993 Soudan Station → Barkly Homestead: 146.3km, avg 27.3km/h, total 1,470km
A relatively uneventful ride through slightly undulating, very dry and mostly featureless countryside gets us to Barkly Homestead, a big service station and caravan park. The day was hot, and even Trudy downs a beer.
This place is a real oasis: there is plenty of bore water, so they grow palm treas and water the grass (making it nice and soft for camping). They also have a shop, although a very small one. We need to stock up on food, but the selection is extremely limited. Still, we get enough to continue.
Day 12, Thursday 15 July 1993 Barkly Homestead → Bush camp: 121.4km, avg 29.1km/h, total 1,591km
From Barkly Homestead it's 187km to the Stuart Highway, and there is nothing, except for a bore which is known to have water. About 20km east of it we meet an English cyclist riding the other way. Turns out he's going around Australia, but the wrong way—going around anti-clockwise guarantees headwinds on at least 80% of the distance!
In fact, he seems to be a bit delirious from the heat and the constant headwinds. When we ask him for the distance to the bore (where he says he has camped) he tells us to our great surprise it's 40km, while we expect it to be no more than 10km. Turns out our expectation is correct. We never found out what he was referring to, as there was nothing else for the next 80km or so!
The bore turns out to be a lovely place. It is running freely, creating a small lake which attracts lots of birds. There are also some wood barbeques, on one of which we cook our dinner. In spite of it being a nice place for a break, we see no-one else while we camp here.
Day 13, Friday 16 July 1993 Bush camp → Tennant Creek: 100.7km, avg 24.5km/h, total 1,692km
Uneventful two-hour ride to Three Ways, where the Barkly Highway ends at the Stuart Highway. We actually left without breakfast, thinking that we don't need it for "only" two hours. Probably wasn't that great an idea, and the last few kms seem endless. When we finally reach the intersection mid-morning, we have a traditional bushie breakfast of steak and eggs.
Three Ways also marks the end of the tail winds, from here on the trade winds are blowing into our faces, and riding is more challenging. We clearly notice it on the short (25km) ride to Tennant Creek. This is the biggest town between Mount Isa and Alice Springs, and there are lots of people from the stations around doing their shopping (in a gigantic supermarket). It's probably also relatively busy as it is Friday afternoon, an lots of aborigines from the stations are coming to town for the week-end.
Day 14, Saturday 17 July 1993 Tennant Creek → Devils Marbles: 119.1km, avg 21km/h, total 1,811km
As we expect a tough day against the wind, we leave while it is still dark. Not far out of town we have a very scary moment. We are riding along at the edge of the road when suddenly there is a car heading straight at us! Some idiot driving at night without headlights is overtaking another car. As the car being overtaken has lights on, we do not see the other one until it is almost too late. (And he probably didn't see our comparatively weak lights, most likely he wasn't really concentrating anyway.) We run into the ditch, and, fortunately, remain unharmed. But it takes a while until Gernot stops shaking.
The day is more challenging than what we were used to in the last week or two. Apart from the head wind we also face numerous hills (remains of mountain ranges) every few dozen kms. Water is no problem, there are government-supplied and -maintained water tanks about every 50km along the Stuart Highway. Hence it is enough to carry a few litres per head.
The last bit towards Devils Marbles is a fair climb, and we are quite exhausted when we get there. Imagine our surprise to come across a large parking lot, empty except for a ice-cream van in the middle! We have to circle it first, and then sample the ice cream, to believe that it wasn't a mirage. In any case, it's just what the doctor ordered!
We camp right at the marbles, which make for an impressive backdrop.
Day 15, Sunday 18 July 1993 Devils Marbles → Barrow Creek: 125.9km, avg 20.9km/h, total 1,937km
Riding...rolling...riding...rolling—no specific memories or notes.
Day 16, Monday 19 July 1993 Barrow Creek → Ti Tree: 93.3km, avg 20.7km/h, total 2,030km
While we have no specific memories of the ride itself, we very much have so of the town itself:
We reach Ti-Tree, a small town with a pub which claims to be the most central in Australia. But the surprise comes when we order food. The menu is the usual, and we order a steak as usual. The unusual thing is when the man at the bar asks how we want our steak cooked.
This may require some explanation for people who are not familiar with rural Australia, as most people would consider it normal to be asked how a steak is to be cooked. In the bush, however, steaks are eaten well done. In major towns or closer to the big cities they may ask you, but that's just pretenc—the steak comes well-done no matter what you ordered. So they normally don't bother asking, and it's pointless to volunteer the answer.
Not so in Ti-Tree. We are asked how we wanted out steaks cooked, we reply "medium rare", and, to our even bigger surprise, they arrived medium rare! And to our even bigger surprise, it came with some nice cauliflower (among others), rather than the standard overcooked three-colour veges.
After this adventure we start exploring the town (by foot). It turns out to have another surprise in stock: an Aboriginal art gallery. It belongs to a woman (and therefore features works by female artists) but she is out and the shop is minded by her husband Mick, the local handyman (with an EE degree). We are served tea while we chat with Mick about the artworks, aboriginal culture, and life in the city and the bush. We thoroughly admired one larger piece of art but only buy some smaller ones, which he is going to mail to us.
Day 17, Tuesday 20 July 1993 Ti Tree → Bush camp: 133km, avg 18.8km/h, total 2,163km
The temperatures are much lower by now, so much so that we shift our start from half an hour before to about an hour after sunrise. Still it is only about 10–12°C, and we get cold fingers and toes, forcing frequent stops to revive them.
This morning we only have been going for about an hour, when a 4WD passes us slowly and then stops about 100m ahead of us. They get out and signal us to stop. It turns out that the driver is a friend of Mick from the gallery, who is taking Mick's mail (including our artworks) to Alice Springs to get it posted. And he carries a letter for us from Mick (with some information we forgot to take with us). They reckoned (correctly) that two cyclists will be easy to spot on the road to Alice;-)
It turns out that we know the driver, although only by reputation. He is Vic Cherikov, one of the pioneers of bush tucker (native ingredients, from pepperberries to wallaby meat) in modern Australian cuisine, and supplier of Riberries restaurant in Sydney, which specialises in such food and which we know well. He is presently on a field trip to collect bush tucker (together with his Quebecois fiancee). What a place to meet him!
The rest of the day is uneventful. We camp near the turnoff to the Plenty Highway, within reach of Alice.
Day 18, Wednesday 21 July 1993 Bush camp → Alice Springs: 72.7km, avg 19.5km/h, total 2,236km
The final day is the coldest. 30km north of Alice Springs we leave the tropics; the Tropic of Capricorn is marked at the side of the road.
From here on it's the hilliest we had in a long time, as the road crosses the northern MacDonnell Ranges. Near the top we get to see a beautiful eagle from relatively close up. We finally get our first view of our goal just before a nice downhill ride into town, which we reach in the early afternoon. We buy a bottle of bubbly and celebrate the successful conclusion in the middle of the dry bed of the Todd River. We are happy to have made it, and feel like we have cycled enough for a while!
The guy we ask to take our picture happens to be running one of the many backpacker hotels in town. With a keen eye for business (it is by now past the end of the winter school holidays and therefore low season) he offers us a discount stay. We say we were planning to camp, so he agrees to let us camp in their back yard. This turns out to be a good deal for us, as we can leave our sizable gear (bicycles, tents, etc) at the hotel while we go on tour.
In Tennant Creek, once we were confident of the day of our arrival in Alice, we had booked a three-day trip to Uluru (Ayers Rock), Kata Tjuta (The Olgas) and Kings Canyon, which exactly fitted into the spare days we had before our flight home.
Alice Springs and surrounds are at this time colder than Sydney: afternoon temperatures are in the mid-teens at best, and overnight it goes below freezing. We actually are glad we have good sleeping bags!
After three days of being driven around, we return to our backpackers on Saturday and pitch our tent for the last time. On Sunday morning we load up our bicycles once more and head south again, but not for far.
On the way to the airport we stop for an early lunch at Chateau Hornsby, central Australia's first winery. It is a balmy sunny day and we enjoy a jazz band playing in their beer (wine?) garden. We also do a tasting of their wines, but aren't very impressed. Their bubbly is drinkable, and so is their Early Red (picked on New Year's Day—first in the world ;-) of which we take a couple bottles home with us to impress our friends, the rest we decide to stay away from. [Their quality is said to have improved meanwhile, but we can't say as we haven't had any since.]
Then it's finally time to embark on the last bit of the ride. We head south again, but at the airport turnoff we have to force ourselves to turn left, feeling a very strong temptation to just keep going south. Unfortunately, work is waiting at home. But a little bit of sadness about going home is surely a sign of a good holiday!
By the way, we end up buying the artwork we admired at the gallery:we call up Mick the next week-end and order it—we still like it!
---
Return to all Trips
---