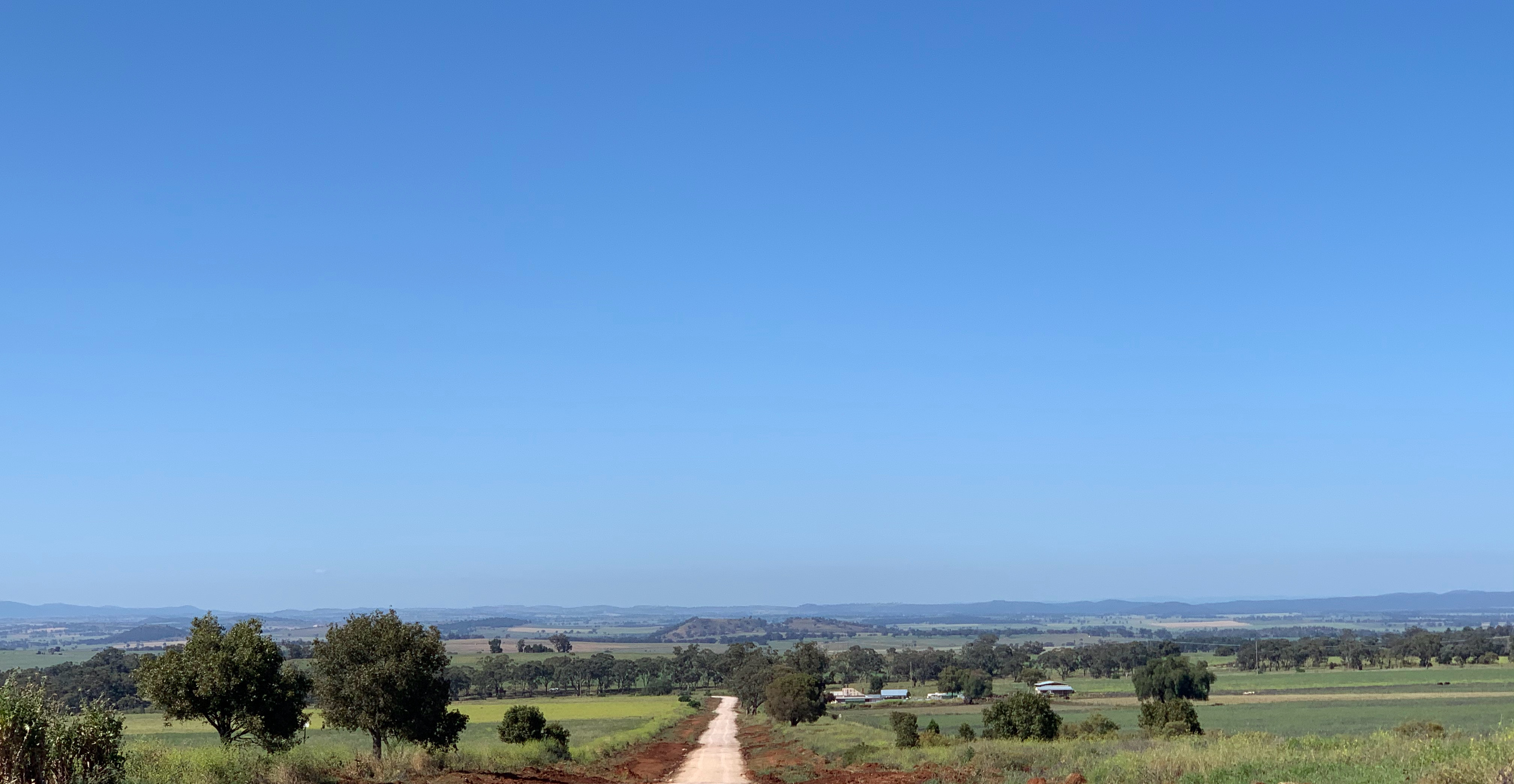 The long-distance view on the NSW Central West Cycle Trail
By the time October came around in 2020, we were desparate for our once- or twice-a-year outback/bush holiday fix. Given the country's borders were shut, and even inter-state and regional travel affected by on-and-off lockdowns, we jumped on the opportunity to explore something near-local: the fairly new cycle trail in NSW's Central West region.
Compared to 20 years ago, these days it is a lot easier to research, plan and prepare for trips of this nature. In this case, the straightforward starting point was with Bicycle NSW, who put together a dedicated website with lots of practical information.
At that point, our main challenge was to choose a suitable time window to dodge, at least to some degree, the then prevailing wet weather with at times very heavy downpours. As it turned out, we hit the window perfectly: while our travelling days of Saturday and Sunday were a mixed bag, the 6 riding days of Monday through to Saturday were perfect (no rain and only at times overcast). As soon as we started heading home, we hit an other wet weather front.
Given that this was a "local" ride, we spent relatively little time planning and preparing for the trip. The main focus was on exit strategies in case of an emergency, while enjoying the luxury of minimal gear weight. The latter was possible by ditching tent, sleeping and cooking gear and instead making much use of the many local townships' amenities. We found out very quickly that we were not the only ones heading out to the region; so we decided to pre-book our accommodation a couple of days ahead, even though this did somewhat restrict the flexibility we are normally used to when touring.
We managed to leave work and other city worries behind, being quite relaxed throughout the trip. This did mean, however, that we kept hardly any notes of the trip and took relatively few photos. We'll share what we've got...
Diary of the ride: Monday 19 to Friday 23 October 2020
Prelude: Saturday+Sunday, 17+18 October
Easing ourselves into our holiday
On Saturday after lunch, we drive from Sydney to Gulgong, where we stay overnight.
On Sunday we visit Mudgee and some wineries in the vicinity; stayed there for the night.
Day 1: Monday, 19 October
Gulgong → Dunedoo
distance=53km / riding time=3:50h / ascent=515m
We leave Mudgee early in the morning and drive to Gulgong, where we unpack and load up our bikes. We park our car safely in a long-term parking spot, ready to be picked up 6 days later on our return. Ahead of plan we are rolling out of town at just after 8.30am—our, albeit short, holiday begins and spirits are high.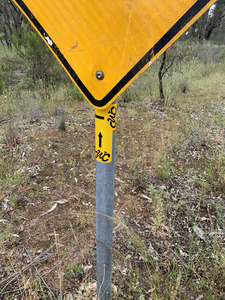 Very visible signposting makes it easy to get a feel for this trail and, in particular, to not miss the first turn-off, where we leave general traffic behind.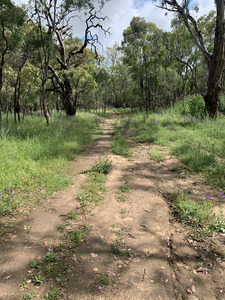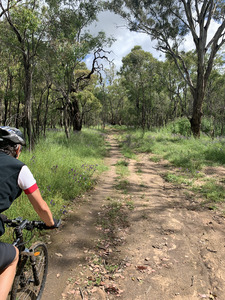 After a bit over an hour of riding we already hit one of the highlights of the trail: heading up the Slap Dash Creek—riding in the creek bed is challenging but fun!

At the top, at Barneys Reef and Birriwa, we are greeted with a picturesque sea of Echium Plantagineum. Sadly, we learn later,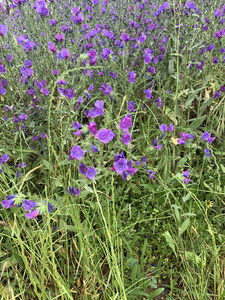 Paterson's Curse, as it is commonly known, is an invasive species.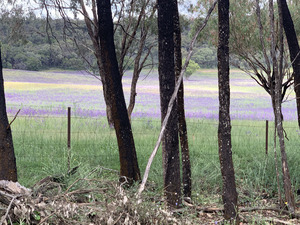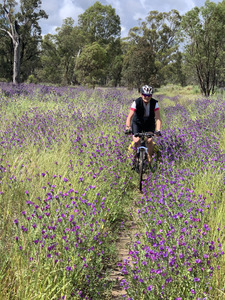 After a short snack break at Birriwa (a township that seems bereft of any services) we wind our way on small roads to reach today's destination of Dunedoo before lunch time. A couple of days prior we secured accommodation at the local hotel, where also a cyclist's dinner awaits us 😀.
Day 2: Tuesday, 20 October
Dunedoo → Mendooran
54km / 2:52h / 330m [total: 107km / 7h / 745m]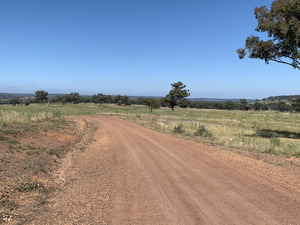 After enjoying the luxury of having brekkie served, we hop onto our bikes and head off a tad earlier than yesterday. We soon meet the wide open, undulating countryside that is the Central West.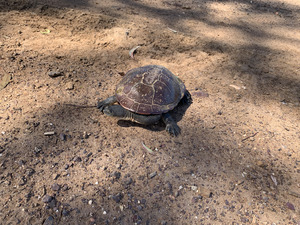 All up it's a fairly uneventful day, punctured just by the most unexpected, cute encounter with a tiny tortoise—we are relieved that this happened before we turn onto the Castlereagh Highway.
We roll into Mendooran well before noon—plenty of time to soak up the local environs and enjoy our holiday out west!
For the night, are being looked after by the Royal outfit, both for feed as well as for sleeps.
Day 3: Wednesday, 21 October
Mendooran → Ballimore
57km / 3:20h / 345m [total: 164km / 10h / 1,090m]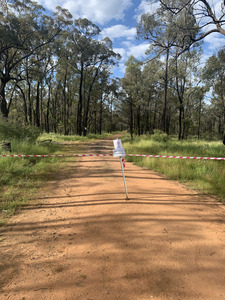 We check out the little town and find a nice café that sets us up for a great start to the day. We are back on the road at 8am sharp.
Today's trail takes us through forested terrain. Navigating of the many, indiscriminate forest tracks is at times not obvious—but the very special treatment of cyclists makes up for it.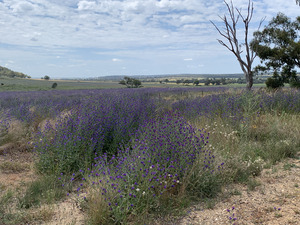 And there are more magnificent, expansive views of the Central West countryside to enjoy.
Day 4: Thursday, 22 October
Ballimore → Wellington
75km / 4:20h / 700m [total: 239km / 14h / 1,790m]
For logistics reasons, we deviate a bit from the official route today: we are skipping the Dubbo excursion; this saves us a day and will avoid getting thoroughly soaked on the last day of riding. So we take the shortcut of a longish stretch straight to Wellington. As it turns out, this plan was just as well since we cannot find any accommodation anywhere along the way. Wongarbon in particular is a very desolate place where we struggled to even find water to refill our bidons.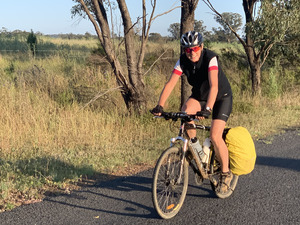 To be prepared for a long day's cycling, we leave Ballimore just after 7am. The sun is up, the air still fresh and we are happily on underway on our 4th day of riding.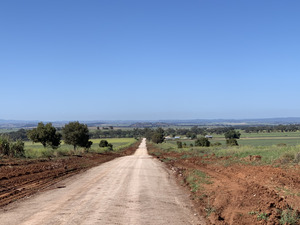 After a snack stop in deserted township Wongarbon we make our way over Red Hill and down to Geurie. There, we cannot resist the inviting café called The Devil Dog Coffee Shop; we indulge in a second brekkie—yummm!
The final section of the day takes us over Mount Arthur. The uphill part is not so easy anymore, having already been in the saddle for 50km, but of course, we reach the top and enjoy the downhill on the other side all the more—wushhh and we are in Wellington just in time for lunch!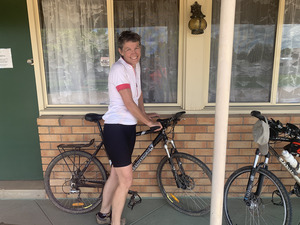 We are settling in at the Bridge Motel, Wellington and have now all afternoon to recuperate in the pool on its premises.
Day 5: Friday, 23 October
Wellington → Gulgong (Trudy's finish) → Mudgee (Gernot's finish)
81+32km / 5:14+1:13h / 1,130m

TOTAL: distance= 351km, time=21h, ascent=2,920m
The final day closes the loop: we make for an even earlier start, taking off at 6.30am.
We hit Gulgong at 12.30pm, the beer garden ready to feed and water a couple of thirsty and hungry cyclists.
Gernot still has spare fuel in his tank and wants to ride over to Mudgee. this leaves Trudy to volunteer to take the car over from Gulgong to Mudgee, pick Gernot up and then drive all the way back to Wellington, where we are staying for a second night at the hotel.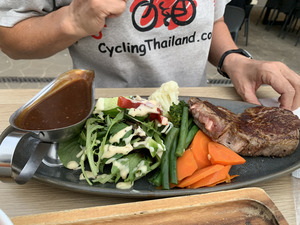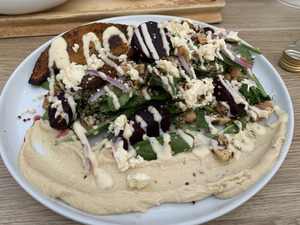 We celebrate duly with a generous dinner: steak 'n veggies and an eye-watering vegetarian platter—two very satisfied cyclists!

Epilogue: Saturday, 24 October
Getting home the roundabout way
On queue, the weather turns bad and we are happy to be tucked away in the car as we drive through the countryside in a downpour. Along the way we visit a couple of wineries in the Orange region, a favourite way of padding time, especially at the end of an active outdoor holiday trip.
We arrive back in Sydney just over 7×24h after we have left, a little tired, but very happy!
---
Return to all Trips
---