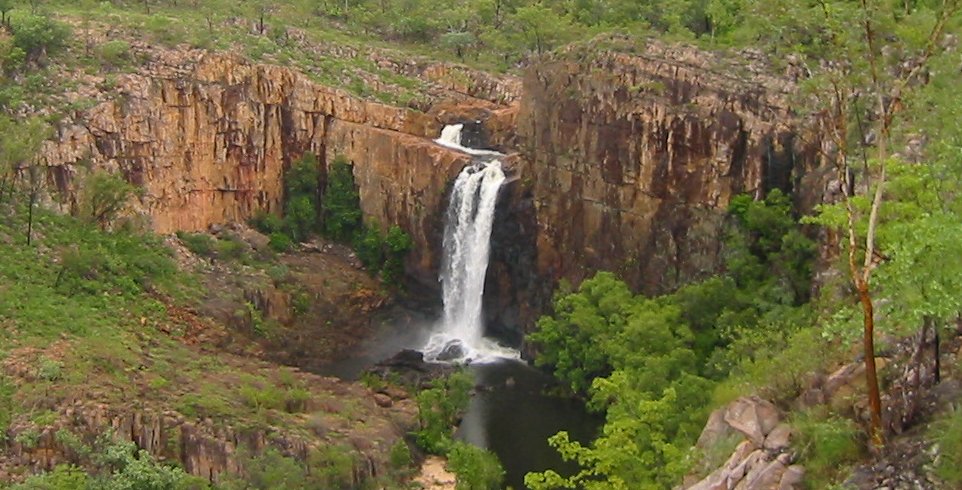 This has been an other one of our long standing dreams: to walk in the tropics in the Wet. When the opportunity came up on short notice to join Russel Willis of Willis's Walkabouts on his personal test and recuperative walk of the Jatbula Trail over New Year 2006, we jumped at it, letting go of the NZ bike holiday we had already organised and booked flights for.
The Jatbula Trail takes you from Nitmiluk (Katherine Gorge) Visitor Centre to Edith Falls, a 65km track that is marked for self-guided walking during the dry season. During the Wet, walking in the area is not permitted due to flooding and strong currents waters in the many rivers that need crossing. The special attraction this time was that Willis was able to obtain a special permit to walk the trail during the Wet. This had the additional attraction that we were not likely to meet any other people along the way.
And, it certainly held what it promised: we got plenty of

water—either when admiring and getting splashed at by the waterfalls and cascades, when swimming in the many pools along creeks and at the bottom of waterfalls, usually after we stopped walking for the day and before sitting down for dinner. Plant life was in abundance, despite the rather rocky underground. Many of the bushes and grass were flowering.

Even though we carried food for 6½ days on us, all in all, the walk was not overly strenuous, since we covered on average only approximately 10 km per day. This was partially to ensure we could cope with the high humidity and hot temperatures, but also because we took plenty of time to explore aboriginal art sites.